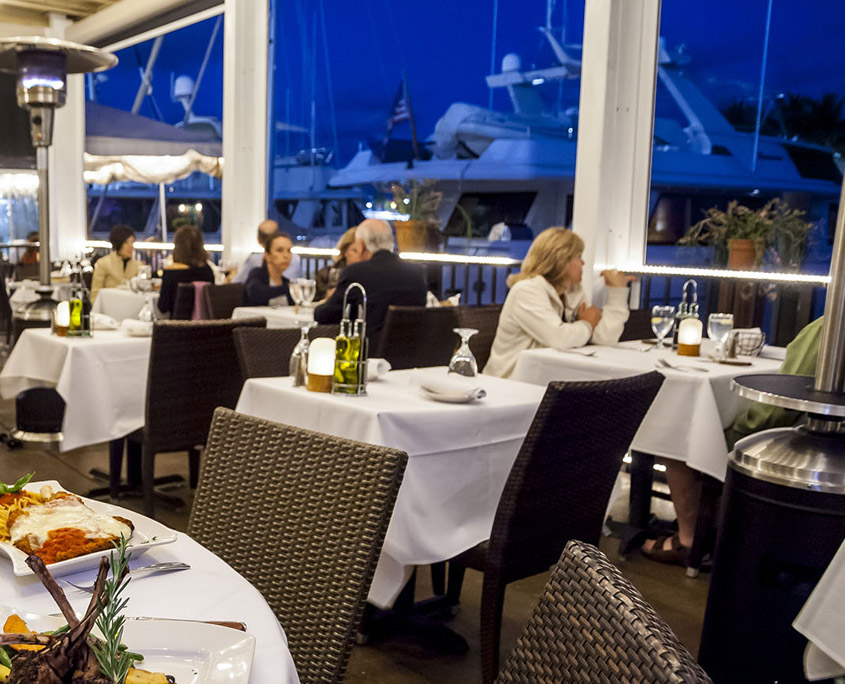 The downtown Fort Lauderdale region boasts hundreds of eateries sure to please even the most discriminating tastes. From chic brunch and tapas locations, to fine steakhouses and seafood dinner settings, Fort Lauderdale provides some of the greatest food in the South. Outdoor seating and waterfront dining are often high on the list of diner priorities due to Florida's nearly year-round sunny weather.
One stand-out location which offers amazing waterfront views is Serafina Italian Restaurant. Situated just off of Federal Highway in the community of Victoria Park, and producing beautiful views of the intercoastal waters, Serafina bring both amazing atmosphere and high-quality, authentic Italian food. The charming, romantic restaurant rivals those located in downtown Italy. A beautiful trattoria accentuated by twinkling candles and spectacular sights of the Middle River. Aromatic smells of authentic Italian flavors such as basil, parmesan, roma tomatoes, and olive oil welcome each guest as they are escorted to their table. The food serves at Serafina is high-quality, with fresh, clean ingredients used to create authentic Mediterranean plates packed with flavor.
Serafina has a list of daily dinner specials such as fresh zuppa Di pesce seafood selections combined with main courses of Chicken Milanese, Gnocchi alla Sorrentina, and fettuccini Con panna. A selection of fresh caught seafood pairs perfectly with caprese salad or pasta e Fagioli soup. Serafina is home to a can't-miss weekend brunch that attracts locals and tourists alike. Drink specials abound with bottomless bellinis and mimiosas and there are plenty of dishes to enjoy such as classic Italian bruschetta, frittatas and omelets. A great range of daily lunch specials can be found at Serafina as well.
Serafina staff and servers are friendly, warm and are equipped to speak Italian with those who are more comfortable conversing in their native language or for people looking for some practice learning a second language. The central location is the best spot to meet for a business lunch, family dinner, or romantic date night. The picturesque Florida sunset dipping below the water is an ideal backdrop for an anniversary date. The selection of top-notch Italian white and red wines are great to sip while enjoying the timeless classics of Michael Buble, Andrea Bocelli and Il Divo. Serafina takes reservation requests over the phone as well as online through an easy to use table booking portal. This enables prospective diners to reserve a prime location on the patio, even on busy weekend nights.
Everyone can find a dish they enjoy at this family-owned establishment, and with a wide variety of delicious choices, people often have trouble choosing just one plate. No matter what is selected, people always find themselves returning to enjoy their favorite authentic Italian food and lovely atmosphere at Serafina.