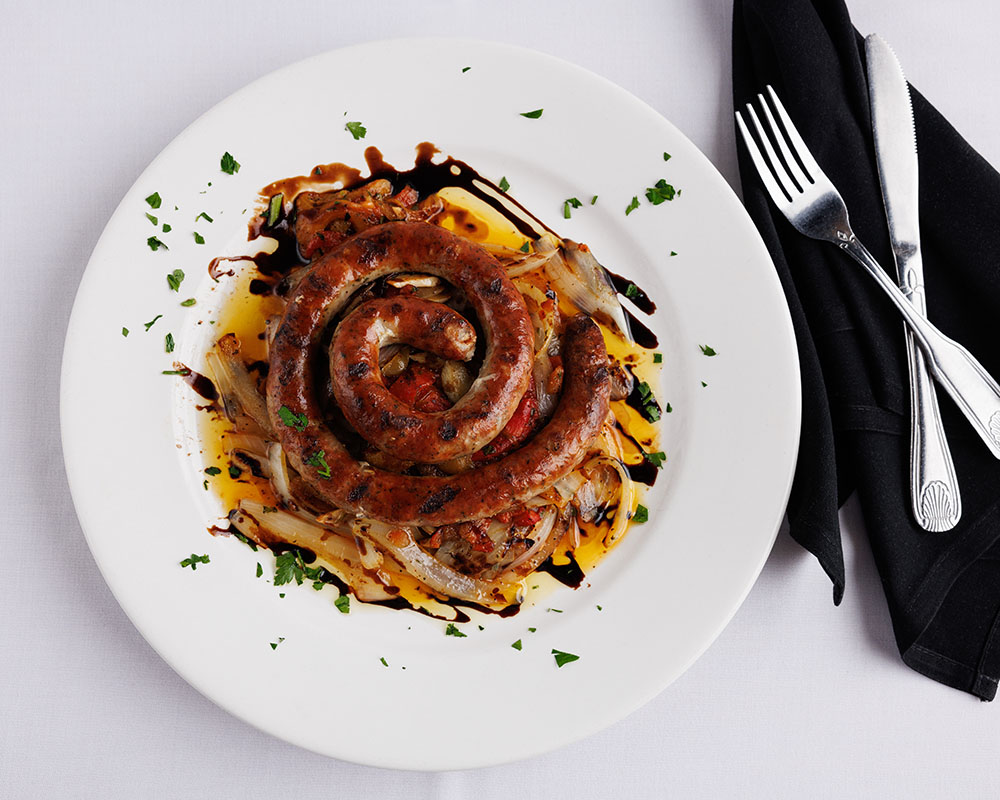 Sausage Peppers
Gather with friends and family at Serafina Italian Restaurant in Fort Lauderdale. Nestled in Victoria Park, Serafina offers guests a mouthwatering celebration of food and fun all under one roof. This gourmet restaurant serves both lunch and dinner, as well as brunch on the weekends, and is open for private events. You'll also enjoy our extensive wine menu that includes beers, signature cocktails, and dozens of wine options.
Start your meal with a tasty appetizer of sausage peppers. Also known as Cervellata, this dish consists of fresh cheese and parsley sausage grilled and served on a bed of sauteed peppers and onions.
At Serafina, we use only top-quality ingredients to create our dishes, and every dish is overseen by our authentic Italian chef. Our Cervellata is known for its grilled coil of flavorful sausage infused with fresh cheese and parsley flavors. The ring of sausage is served over peppers and onions that have been perfectly sauteed in oil.
Our Cervellata is the perfect way to start your meal. Eat this popular appetizer with a salad or soup, or choose one of our mouthwatering entrees. Serafina offers two unique dining experiences for our guests. Choose to sit in our cozy dining room which offers scenic views of the water, or ask our staff to be seated on the terrace for an Intracoastal waterway dining atmosphere.
Don't wait to sample some of our delicious offerings at Serafina Italian Restaurant.
https://serabythewater.com/wp-content/uploads/2022/12/TrattoriaSpizzeti_SausagePeppers.jpg
800
1000
Serafina
https://serabythewater.com/wp-content/uploads/2018/03/serafina-logo-250-oj.png
Serafina
2022-12-19 14:28:21
2023-02-09 16:01:00
Sausage Peppers